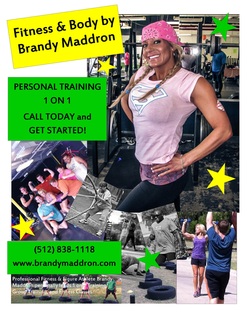 Fitness Buster Metabolic Training Classes
Brandy's Fitness Buster class features a total body workout that employs high-intensity work periods with short rest periods in a circuit format that combines the fat-burning benefits of interval training with the muscle-building benefits of resistance training.
The result is an awesome workout that supercharges your metabolism, blasts stubborn fat, tones and tightens your entire body, and can get you in the best shape of your life!
Great for all fitness levels, tailored to your fitness level, geared to generating maximum results in minimal time.
Professional Fitness & Figure Athlete Brandy Maddron has trained all levels of clients and knows what it takes to achieve your fitness goals.
1 Hour Fitness Buster Metabolic Training Classes in the Round Rock, TX area.
Are you ready to THRIVE? CLICK HERE to learn more!FITNESS BUSTER CLASS TIMES:
(Subject to change - bring a water bottle, exercise shoes, and a willingness to sweat)
MONDAY 7 PM START
WEDNESDAY 7 PM START
SATURDAY 10:45AM STARTAvailable training times are:
Monday to Thursday from 10am to 8pm
Friday from 10am to 7pm
Saturday from 10:45am to noon
Call or Text for Class Pricing, Personal Training Pricing, or to schedule an assessment.
Currently accepting Fitness Buster Class participants.

Limited availability for 1on1 Personal Training.
Follow us on Facebook or Text us to be included on class updates!

Here's a thought
...each fitness class with Brandy you should burn 500-700 calories. If you burn 500 calories more than you eat each day, then you should lose 1 pound a week.
For those of you that have been to her class, you know that she will motivate you and keep your heart rate up, so 500 calories burned is a no brainer.
So...WHAT IF you attended 2 of Brandy's Fitness Buster classes a week and followed her nutritional suggestions?
By the numbers you should lose between
8 pounds and 11 pounds in 4 weeks.
WHAT IF?
Don't be a Woulda-Coulda-Shoulda anymore...Become a DID!
---